101 Epic Adventure Story Prompts
Want to write an epic adventure film? Here are some story prompts that will set you off on your journey.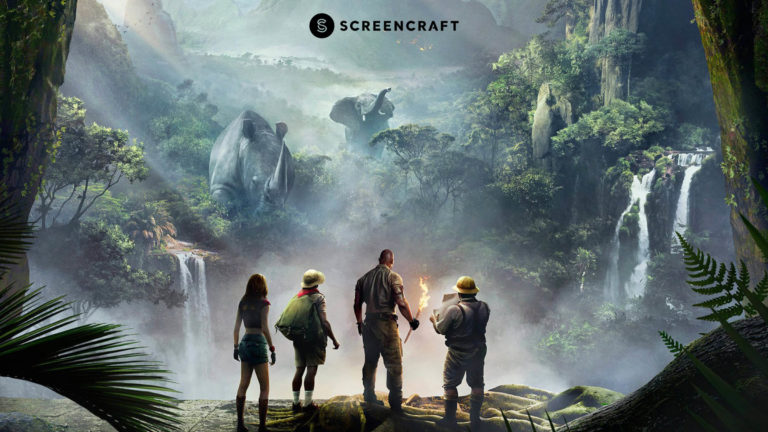 Do you want to write in the adventure genre but need help conjuring compelling and adventure-packed stories and concepts? Sometimes reading simple story prompts is the easiest way to get those creative juices flowing.
We get our ideas from many sources — news headlines, novels, television shows, movies, our lives, our fears, our phobias, etc. They can come from a scene or moment in a film that wasn't fully explored. They can come from a single visual that entices the creative mind — a seed that continues to grow and grow until the writer is forced to finally put it to paper or screen.
In the spirit of helping writers find those seeds, here we offer 101 originally conceived adventure story prompts that you can use as inspiration for your next adventure story.
They may inspire screenplays, novels, short stories, or even smaller moments that you can include in what stories you are already writing.
Common Elements in the Adventure Genre
Adventure movies are the action genre's closest relative. They are seemingly one and the same beyond a single element — location.
Adventure movies are best defined as action movies set within an exotic location — something beyond an otherwise anonymous big city or small town.
They entail a character — or cast of characters — traveling to a new world, or many worlds, to attain what they so desire.
Indiana Jones movies globe-trot to many different locations.
The Pirates of the Caribbean franchise takes us to many worlds across the open waters of the ocean.
The Goonies takes children into the underground caves of a pirate's treasure.
The Jumanji franchise takes characters into the jungle worlds of a videogame.
Jungle Cruise took us down the waters of the Amazon River.
Again, the key difference between a straightforward action movie and an adventure movie is location, location, location.
Notable adventure sub-genres include:
Disaster Flicks —  The adventure aspect of these types of films entails characters struggling to survive through seemingly impossible and yes, disastrous, circumstances. The Poseidon Adventure, The Towering Inferno, San Andreas, almost every Roland Emmerich movie, etc. These are all disaster flicks that take us on the ultimate adventure of survival. They can often be blended genres set within the context of natural disasters, alien invasions, and post-apocalyptic situations. In these cases, the disaster itself creates a unique location.
Quests —  The word quest is perhaps the most simple term to market. The mere mention of it entails a MacGuffin — a plot device in the form of some goal, desired object, or other motivators that the protagonist pursues — and the grand adventure of attaining it. The Indiana Jones franchise as a whole is perhaps the most well-known of this sub-genre.
Note: Because we're all connected to the same pop culture, news headlines, and inspirations, any similarity to any past, present, or future screenplays, novels, short stories, television pilots, television series, plays, or any other creative works is purely coincidence. These story writing prompts were conceived on the fly without any research or Google search for inspiration.
101 Adventure Story Prompts
1. Two treasure-hunting teams race against time to find the same treasure in four different potential locations.  
2. A group of high school students traveling abroad must survive the elements when their plane crashes into the jungle. 
3. A gamer wakes up in his favorite car racing game and must win multiple races to survive.
4. A young boy searches for his lost father in the nearby mountains.
5. An astronaut crash lands on an exotic planet.
6. A group of middle school friends discovers a series of tunnels underneath their town.
7. A father and son go on a safari and must survive the elements when their guides are killed. 
8. A group of explorers searches for a long-lost ship that disappeared in the Antarctic two hundred years ago. 
9. A single mother learns that her college-age daughter has disappeared into the jungles of a foreign country.
10. A family struggles to survive a destructive meteor shower.
11. A man wakes up in a dream world that he can't escape. 
12. A woman joins the military and is shipped overseas as she intends to avenge the death of her soldier husband.
13. The last man on Earth flies into space to search for astronauts sent to colonize Mars ten years prior.
14. The last people on Earth go to China's Great Wall to evade attacking creatures that have killed everyone else on the planet.
15. A priest discovers the true entrance to biblical Hell. 
16. A woman fights her way across purgatory to find her true fate. 
17. A boy is taken to an alien world after displaying amazing fighting skills in his video game system. 
18. An FBI agent tracks down a group of bank robbers through the waters of the Grand Canyon. 
19. The President of the United States wakes up on a train taking him into a desert. 
20. A spy escapes to another continent to evade government assassins trying to take him out. 
21. A group of rock climbers discovers a drug deal in the Rockies and must survive as they are pursued. 
22. A retired assassin struggles to survive an onslaught of assassins trying to kill him near his mountain cabin home.
23. A gamer escapes into the fantasy world of his favorite game.
24. A classic horror movie fan escapes into the world of his favorite horror movies.
25. Professional thieves are tasked with stealing from a country's gold reserves hidden deep within a mountain.
26. Extreme paintball enthusiasts on a wilderness retreat stumble upon a group of armed criminals.
27. A president must fight off terrorists that attack him on a retreat. 
28. An FBI agent must team up with a cartel boss to find their missing sons in the jungles of Mexico. 
29. Explorers search the ocean for the lost city of Atlantis. 
30. A family finds a lost city underneath their farmland. 
31. A team of explorers is tasked with drilling a ship into the core of the Earth. 
32. A man is catapulted into an apocalyptic future to find the cause of impending doom. 
33. Extreme sports athletes are forced to use their skills for heists in the world's most exotic locations. 
34. College friends search for a mythical island paradise during spring break.  
35. A family is marooned on another planet. 
36. Racecar drivers race across the country in the ultimate race. 
37. Pilots discover a strange city in the clouds. 
38. A robot from the future finds a little girl and takes her to the future world.  
39. Kayakers are whisked away down the Mississippi River during a horrible storm and flood. 
40. A spelunker discovers an underground world. 
41. A bullied boy wakes up as a strong knight in a fantasy world. 
42. Deer hunters discover that they have been targeted by a master hunter that hunts only one prey — man. 
43. A family must survive when they are shipwrecked on a jungle island. 
44. A waitress is given a mysterious plane ticket as a tip for her excellent service. 
45. An old west gunslinger must survive a posse that is after him. 
46. The world's most deadly convicts are hired for an impossible adventure into the depths of space. 
47. A sailor decides to sail into the infamous Bermuda Triangle to find a lost friend.  
48. A town must survive the worst flood in history. 
49. Storm chasers must survive a unique weather system that creates multiple F5 tornadoes. 
50. A man that has uploaded his consciousness to a simulated reality fights to return to his real body and world.
51. A truck driver travels across the country as he's pursued by gangsters that want his cargo. 
52. An outcast nerd discovers that he's actually a revered prince from another planet, hidden by his royal family to escape an evil space lord. 
53. The story of the Titanic, but the Titanic is a luxury space cruiser that has hit a meteor made of ice. 
54. An astronaut stuck in cryosleep wakes up after his returning ship crashlands in medieval times. 
55. A Navy SEAL is shipwrecked on a deserted island full of vampires. 
56. A submarine crew discovers an underwater civilization of humans. 
57. An asteroid crashes into Earth as people struggle to survive. 
58. Archeologists unlock the mystery of the great pyramids. 
59. The world's last unicorn struggles to get to a safe world. 
60. A wizard from another realm must find a magical item lost on Earth before their evil counterpart does. 
61. A scientist finds the cure for cancer in the jungles but is pursued by a drug cartel wanting to sell it to the highest bidder. 
62. A space pilot goes on an interstellar race to find a coveted treasure. 
63. A family sailing the ocean waters must overcome the worst hurricane in history. 
64. Two escaped union soldiers with key intel must make their way through the southern battlefields of the Civil War-era United States. 
65. Old West train robbers must fight off infantry soldiers as the train races across the country. 
66. A Vietnam POW escapes a prisoner camp and struggles to make his way through the war-torn territories to freedom.
67. Criminals are now shipped into space on space prison ships as some try to escape. 
68. Peter Pan's mother tracks him down in Neverland. 
69. Competing treasure hunting families race on the open ocean waters to find a sunken treasure. 
70. A character within a Sim City-like game becomes self-aware and wants to escape to the real world. 
71.  A family vacationing in Hawaii unlocks a portal that transports them back in time. 
72. Asteroid miners struggle to survive an accident. 
73. A family of assassins must survive a syndicate's attempt to take them out while they're on vacation in Europe.
74. A family is transported back to the time of the dinosaurs and struggles to survive. 
75. A riverboat captain attempts the first trip down the Mississippi River. 
76. A futuristic gamer realizes what he thought was a virtual reality shooter game is actually real life. 
77. A movie director finds a way to transport his cast and crew back in time to save money on sets and wardrobes. 
78. Alien monsters chase the last living family on Earth across the country. 
79. A warrior is tasked with venturing to the Dark World to save a captive princess. 
80. A pirate that has fallen in love and wants to leave his pirate ways is chased down by his crew. 
81. Three swordsmen fight their way across a medieval world in search of Excalibur. 
82. A select group of individuals is invited to partake in the ultimate scavenger hunt. 
83. A best-selling author is transported into the fantasy world of his novels. 
84. A science fiction movie director realizes that the world he created for his hit franchise is real. 
85. Siblings mourn the death of their grandpa, only to discover that he's left them an old treasure map.  
86. A witch curses a group of children, causing them to shrink to the size of ants. 
87. A family must find each other after the worst earthquake in human history. 
88. An ancestor of the real Van Helsing is hunted across Europe by vampires.  
89. An off-duty detective on a cruise vacation with his family must fend off terrorists that take over the ship. 
90. A special forces team is catapulted into the world of Wonderland. 
91. An astronaut marooned on the dark side of the moon must make his way to a landing site before it is too late.  
92. A wilderness firefighter must parachute into a wildfire to find a missing family. 
93. A special forces team must retreat back to their base as they are pursued by vampires awakened within an ancient village.  
94. A group of ghost hunters must find their way out of a haunted castle. 
95. A family snorkeling along a reef during vacation finds themselves trapped in an underwater world.  
96. A portal to another world opens during a sleepover. 
97. A conspiracy theorist manages to break into Area 51 and discovers that it houses portals to alien worlds. 
98. An action star is kidnapped and hunted down by a tribe that believes he is the real deal.  
99. Career criminals utilize a city-wide blackout for their crimes. 
100. Scientists travel back to the world of dinosaurs to find a long-dead plant that could save humankind from extinction. 
101. A screenwriter awakens in the world of his science fiction script and must find a way back home.  
Share this with your writing peers or anyone that loves a good adventure story. Have some prompts of your own? Let us know on Facebook and Twitter!
---
Ken Miyamoto has worked in the film industry for nearly two decades, most notably as a studio liaison for Sony Studios and then as a script reader and story analyst for Sony Pictures.
He has many studio meetings under his belt as a produced screenwriter, meeting with the likes of Sony, Dreamworks, Universal, Disney, Warner Brothers, as well as many production and management companies. He has had a previous development deal with Lionsgate, as well as multiple writing assignments, including the produced miniseries Blackout, starring Anne Heche, Sean Patrick Flanery, Billy Zane, James Brolin, Haylie Duff, Brian Bloom, Eric La Salle, and Bruce Boxleitner, the feature thriller Hunter's Creed, and many Lifetime thrillers. Follow Ken on Twitter @KenMovies