If you go on Matthew Helderman's IMDb page, you'll notice he has over 100 credits for films he produced, including the recent movie Driven about John DeLorean, creator of the car made famous in the film Back to the Future (1985), and the Academy Award-nominated film, Loving Vincent (2017). 
Though Helderman may not be a household name, he is the CEO of Buffalo 8, a production company he founded in 2010, and BondIt Media Capital, a film financing company he founded in 2013.  His prolific career started when he was just 21-years old with a good pitch and a lot of confidence.
The ScreenCraft Film Fund is Backed by BondIt Media Capital. Apply here now.
It may come as a surprise that he admits his confidence comes from his strong relationship with his mother, but before you label Helderman a momma's boy, take a look at the sage advice he gave at his recent TEDx Talk at Pepperdine University in Malibu, California.
Helderman says he gets asked the same question over and over:
How do I become a young founder and a young CEO and make my life's work something that's me, in my DNA? He says the answer is simple: "Three words - call your mom."
What does your mother have to do with being an entrepreneur or screenwriter?
He says that like any great explorer, you need a great compass pointing you to true north on days when you go astray. For Helderman, that compass has been his mother.  "I've been able to define my life and look back at the reflection points and moments when there were multiple paths to take and the choice that was taken was not my first impulse, but by guidance and thoughtfulness."
He cites Mahatma Gandhi's relationship with his mother. "When Gandhi, himself, looked back on his life, he reflected on the relationship he had with his mother and their daily conversations that lead him to a style of leadership and empathy that shaped the entire foundation for how he lead for his entire life."
Helderman also cites Bill and Melinda Gates, "They remembered discussions with their moms, who recognized where they were on their life map, that it was no longer important to ship the next piece of software, or edge out the next competitor, but it was time to lead their own path with the Bill and Melinda Gates Foundation."
Helderman says he understands not everyone has a great relationship with their mother, but he challenges you to find someone in your life that can be a compass, "a guiding light" for you.  
This is essential in the film industry because there are so many people trying to take advantage of writers. Whether it's asking writers to work for free or trying to sell writers things they may not need, always use caution and run important decisions by your "compass" before moving forward.  
Helderman says he uses three core principles to find success. The first is to do things repetitively.
"Like anyone who's an athlete or owns a business, you find that by doing things repetitively they become part of your routine and sets you on course." 
For screenwriters, that translates to writing regularly. It's easy to procrastinate so it's a good idea to build writing time into your schedule. If you write with regularity, it will become part of your routine. If you're a genre writer, say comedy or horror for instance, it's also important to regularly watch new and old films in your genre. It also goes for pitching. Don't wait to practice pitching until you have a meeting set, practice pitching regularly with your friends or partner. 
Learn how to train yourself to be ready for screenwriting success with this free guide.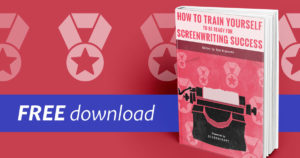 Helderman's second principle for success is to do important things first thing in the morning.
"I've always subscribed to this notion of grabbing the day by the morning and setting that course forward," says Helderman, calling the morning, "the Zen before the jackhammer." 
For screenwriters it's the same advice – use your mornings thoughtfully. If you're like me and feel most creative at night, use your mornings for the business side of things. Do research, send emails to agents and managers, or hop on the phone with a producer, all before noon.
Helderman's third principle is to have the self-confidence to admit when you're lost.
"The best CEOs, the best founders, we're lead to believe, have all the answers. I assure you, they absolutely do not. They have great folks around them who are there defining the needle of that compass."
Screenwriters also need a team of great folks around them. Whether it's a writers group, or a friend you met in a writing class, always get feedback on your screenplay before sending it to industry professionals or competitions. You can always offer to do a "screenplay exchange" where you swap screenplays with another writer and give each other feedback.
Watch the full video below.
---
Shanee Edwards graduated from UCLA Film School with an MFA in Screenwriting and is currently the film critic for SheKnows.com. She recently won the Next MacGyver television writing competition to create a TV show about a female engineer. Her pilot, Ada and the Machine, is currently in development with America Ferrera's Take Fountain Productions. You can follow her on Twitter: @ShaneeEdwards
---
For all the latest ScreenCraft news and updates, follow us on Twitter, Facebook, and Instagram.