Writer, director and producer John Langridge recently sat down with The Filmmakers Podcast to discuss filmmaking topics ranging from his newly released horror drama 13 Graves, his outlining process and other horror stories from his career. Boasting numerous titles under his belt despite many hiccups along the way, John embodies the spirit of the indie-filmmaker and clearly shows no signs of slowing down.
Listen to the full podcast here:
Here's how to keep your cool while making an indie film.
Hang on to your ideas…
"With 13 Graves, I reached what I call critical mass… [using index cards] I wrote all ideas down until the characters started speaking to each other, and then I just wrote that down… Sometimes a whole scene will write itself, and you might change a few bits and pieces, but there's a few scenes in 13 Graves that I literally wrote in my first draft and other ones where you're trying to get from this plot point to this plot point without looking like you're trying to get to this plot point… 
Once I finally get the ideas into Final Draft, I'll have two files open; the script and the script notes because you don't want to delete anything … you might use a note in that script, but it might stay in the notes until you're writing another script…"
Fake it until you make it…
After a filmmaking course taught under the tutelage of the Monty Python school, John eagerly took out a second mortgage on his home and began working on his second short film, Walking Shadows.
"I wanted to make all of the mistakes… and I really made them… The finished film was 40 minutes long. When we put it into festivals, it was twice as long as then next longest film! 
The first bit of feedback John got: cut it down.
"I always think you can learn as much from a sh*t film as you can learn from a good film."
Learn the best way to structure your screenplay with this free guide.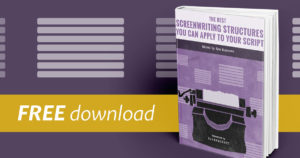 Curses can be a gift…
After working on Walking Shadows, John then moved straight into directing feature films, but not before learning another few lessons the hard way. Three days into filming his first feature, crew checks started to bounce; his producer lied about securing financing for the film and John was left with no money to finish. 
"That ended and I got an agent… weirdly enough, I was at [Clive Standen's wedding] and was sitting next to Nina Wadia and her husband Raiomond Mirza. The conversation went like this, I'm a filmmaker looking to make a film – great we're producers looking for a film… I was prepared and ready to go; we got a week through filming and one of the actors dropped out… I sat on a rock and I remember going I'm cursed… and Raiomond leaned over me and said you're not cursed, we're going to get through this."
John was able to get an actor he originally had his sights set on, they reshot what they had already done and moved ahead with production. The takeaway: "work through your curse."
Deadlines make it real…
Production wrapped and John immediately embarked on another lengthy journey that eventually took him to his feature 13 Graves. 
"Getting to a certain stage with producers, and this happens to indie filmmakers all the time, is quite literally getting really close… to getting [the project] greenlit… and then just getting to the stage where you're like I'm just going to make a film. I got a wall calendar, put it on the wall and I circled two weeks; that's when we're making a film."
Use who's around you…
"We did put some money in, we did crowdfunding, and the executive producer raised independent funding through local people. We used local crew and cast as much as we could… we went to the local chamber of commerce and said, if you want to get involved in the film you don't just have to give us money… you might be able to help us out in-kind, for example, donate hotel rooms for the actors… Our generators and truck were also donated, and I enjoy that side of producing…"
More in-kind donations, Facebook groups and help from local communities near Brighton and Eastbourne in the UK contributed to the making of 13 Graves, but even after the film wrapped there was lots of work to be done…
After partnering with Evolutionary Films, John and his team got the help they needed to go wide with 13 Graves. As John puts it, "until you do it, you don't know how much there is to do… pre-production, shooting, post-production and delivery… no one tells you delivery is as big, if not bigger, than post-production… and that is what Evolutionary Films helped us with… that was the thing for us: I wanted to make a film where we took it from beginning to end and there's no better way to learn it than by doing it…" 
---
Andrew Schwartz is a marketing professional and script reader working in the entertainment industry. He has written and read for outlets such as The Blcklst, BlueCat Screenplay, Final Draft and more. Find him on Twitter at @writingshorts or his Instagram page dedicated to The Sopranos, @sopranosgram.

---
For all the latest ScreenCraft news and updates, follow us on Twitter, Facebook, and Instagram.