What screenwriting lessons can be learned from the inspiring quotes of basketball's most celebrated of all-time — Michael Jordan?
Screenwriters don't always have to go to famous and award-winning screenwriters and filmmakers to learn valuable lessons that can be applied to their screenwriting journeys. Wisdom is everywhere.
Michael Jordan is often considered the greatest basketball player of all-time. His accomplishments within the sport of professional basketball include:
Rookie of the Year
Five-time NBA MVP
Six-time NBA champion
Six-time NBA Finals MVP
Ten-time All-NBA First Team
Nine-time NBA All-Defensive First Team
Defensive Player of the Year
14-time NBA All-Star
Three-time NBA All-Star MVP
50th Anniversary All-Time Team
Ten scoring titles — an NBA record with seven consecutive matching Wilt Chamberlain
Retired with the NBA's highest scoring average of 30.1ppg
Hall of Fame inductee.
Because of his brilliance on the basketball court and his mastering of the business world, many use his inspiring quotes in a number of different industries and contexts.
Below we take twenty-three of his most famous inspiring quotes and apply them to the art, craft, and business of screenwriting, for wisdom has no bounds.
1. "I've missed more than 9000 shots in my career. I've lost almost 300 games. 26 times, I've been trusted to take the game winning shot and missed. I've failed over and over and over again in my life. And that is why I succeed."
Failure is part of success. You have to fail to prevail. You hone your screenwriting skills by taking chances, failing, and then learning from those failures.
Every great screenwriter — be it Tarantino, Sorkin, or any other Oscar winner or box-office titan — has failed more than they've ever succeeded.
It's all about the number of chances you take and how hard you work.
2. "I can accept failure, everyone fails at something. But I can't accept not trying."
When you're writing screenplays, you're doing what most never do when it comes to their dreams — you're trying. Yes, you'll fail more than you'll prevail, but at least you're out there trying to do your best. There's honor in that. And the more you try, the better you'll get.
Learn how to train yourself to be ready for screenwriting success with this free guide.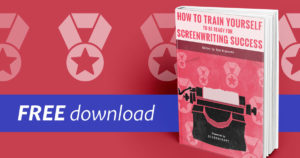 3. "Some people want it to happen, some wish it would happen, and others make it happen."
It's not enough to want this screenwriting dream to come true — and wishing upon a star for it to happen isn't going to get you anywhere either. You need to do the work.
Read every screenwriting book that you can — good and bad. Hold nothing on a pedestal. Instead, take what works best with your process and leave the rest behind.
Study screenplays. Study movies. Study television.
Then write, write, write.
You need to develop your work and hone your screenwriting skills. It's not going to happen overnight.

4. "My attitude is that if you push me towards something that you think is a weakness, then I will turn that perceived weakness into a strength."
Acknowledging your weaknesses in your writing is vital because you need to turn that weakness into a strength.
If you're struggling with characterization, find out what's missing and become the master of characterization.
If you're struggling with dialogue, study the best dialogue writers and discover how they do what they do so well and find a way for you to incorporate those lessons into your own work.
Don't settle for having weaknesses. Turn them into strengths by challenging yourself.
5. "To be successful you have to be selfish, or else you never achieve. And once you get to your highest level, then you have to be unselfish. Stay reachable. Stay in touch. Don't isolate."
The journey of a screenwriter is a grind. You have to look out for yourself first and foremost. Part of that is being selfish and focusing on how you can prosper. Don't worry about what other people think. Do what you need to do for you.
But when you achieve success, then it's time to think about others. What can you do to pay your success forward?
And do your best to be an amazing collaborator. Film is a collaborative medium. You can't do it by yourself. So remain humble and be a great collaborator.
6. "Obstacles don't have to stop you. If you run into a wall, don't turn around and give up. Figure out how to climb it, go through it, or work around it."
If your writing comes to a crashing halt, don't let that obstacle stop you. Figure out a way to push through.
The worst trap that writers fall into is self-pity and declaring themselves a victim of "writer's block." There's no time for writer's block. Discover what the problem is and work around it, through it, or leap over it.
Read ScreenCraft's 7 Reasons Why "Writer's Block" is BS!
7. "If you quit ONCE it becomes a habit. Never quit!"
The easiest option in life is to quit. It doesn't take courage. It doesn't take effort. It's the easiest thing to do in life. And once you start quitting in life, it becomes a habit that is difficult to break.
Screenwriting is hard. You have to beat so many odds and overcome so many obstacles to be successful in this industry. But if it's what you really want and need in life, if this is your ultimate dream, then don't quit. Never quit. Even when it feels like the industry is screaming "No!" at you endlessly. A
The writers that succeed are those that ignore that scream — even if it takes years to achieve that ultimate goal.
8. "Everybody has talent, but ability takes hard work."
If you have a knack for conjuring amazing concepts, developing intriguing characters, and writing snappy dialogue that jumps off of the page, that's talent. But you still need to develop the ability to put those things to use within the cinematic structure of a screenplay. And it takes hard work to master that format and that structure.
Writing one single script isn't enough. You need to get through a volume of cinematic writing to begin to understand and realize the ins and outs of writing an engaging screenplay.
Talent is key to success. But ability is what gets the work done.
9. "Always turn a negative situation into a positive situation."
Rejection — and the outright indifference of silence — is the only sure thing in screenwriting.
Some screenwriters will take negative feedback and use it as fuel for hatred and cynicism. But the wise ones take that negative and turn it into a positive by either learning from it or using it as fuel to become an even better writer.
10. "Never say never, because limits, like fears, are often just an illusion."
Declaring something is impossible creates the illusion of limitations. Nothing in your screenwriting journey is impossible. Do you think any of the screenwriters that worked with Steven Spielberg thought they would be in that position early on in their career?
Do you think the writers of the biggest blockbusters or the most critically acclaimed movies or television shows felt that they'd be as successful as they are?
No.
Anything is possible. Avoid setting limitations for yourself out of fear or out of self-protection.
11. "The minute you get away from fundamentals — whether its proper technique, work ethic, or mental preparation — the bottom can fall out of your game, your schoolwork, your job, whatever you're doing."
Yes, you can and should develop your own style and voice within your screenplays. But cinematic storytelling has general fundamental guidelines and expectations.
You still need to write a cinematic story. You need to hook the reader as quickly as possible within your script. You need to continue to throw as much conflict at your protagonists as you can every few pages. You need to offer foreshadowing, plants, payoffs, surprises, shifts, and other engaging and compelling elements to any script that you write.
12. "Once I made a decision, I never thought about it again."
Never second guess yourself. Do the work and choose your concepts wisely before you take on a project, but once you commit to what you're going to write, go write it. If you stumble, pick yourself up and keep going.
13. "What is love? Love is playing every game as if it's your last!"
You have to love screenwriting to succeed. The love for the "game" is what is going to get you through the difficult times and the constant rejection.
If you're in it for the money, you're going to burn out quickly. If you're in it for the fame, you don't really understand screenwriting as a career.
Love what you do and write every script as if it is your last.
14. "Every time I feel tired while I am exercising and training, I close my eyes to see that picture, to see that list with my name. This usually motivates me to work again."
When you're struggling, when the words aren't coming, when the rejection replies are piling up, close your eyes and remember why you're putting yourself through all of this.
Maybe it's to see your name on that big screen. Maybe it's to walk up to that Oscar or Emmy podium as a winner. Perhaps it's to make a living doing what you love, as opposed to working that thankless retail or office job.
Whatever it is, close your eyes and see that end goal. It'll motivate you to get to work on your screenwriting again.
15. "I never looked at the consequences of missing a big shot… when you think about the consequences, you will always think of the negative result."
Taking risks — calculated risks — is essential to getting noticed as a screenwriter. But it's easy to worry about the negative results and reactions. If you feel in your gut that the risk is worth taking, take it. Don't think twice about it.

16. "It's heavy duty to try to do everything and please everybody. My job was to go out there and play the game of basketball as best I can. People may not agree with that. I can't live with what everyone's impression of what I should or what I shouldn't do."
You can't please everyone with your script. Even if you've written what you believe is an outstanding effort, one producer may love it while a dozen others may hate it — or be indifferent to it.
You can't control who loves or hates your work. It's all subjective in the end. Just write the best damn script that you can and find that one person of power that falls in love with it. That's all you need.
17. "If it turns out that my best wasn't good enough, at least I won't look back and say I was afraid to try."
The sad truth is that not everything can make it as a screenwriter. But you can die knowing that you did something that most people never have the courage to do — you pursued a dream.
18. "I would tell players to relax and never think about what's at stake. Just think about the basketball game. If you start to think about who is going to win the championship, you've lost your focus."
Forget about the awards, the big contract money, and seeing movie stars playing the characters that you create. Focus on the script at hand. Focus on telling the best possible story in the best possible way.
If you have your head in the clouds, you're going to lose focus of what matters most — writing an amazing screenplay. It's not just going to happen because you have big goals. You need to do the work. And to do the work, you need to put full focus on the task at hand.
19. "The game has its ups and downs, but you can never lose focus of your individual goals, and you can't let yourself be beaten because of lack of effort."
Perseverance is key to a successful screenwriting career. You need to embrace the ups and downs while always keeping the focus on your individual screenwriting goals.
So as you're bombarded by failure and rejection, always keep your eye on the goals you've set. Ignore the noise and ignore anyone or anything that is trying to get in your way of achieving them.
20. "You have competition every day because you set such high standards for yourself that you have to go out every day and live up to that."
Most screenwriters have big goals. They want to make a living doing what they love. They want to make those six-figure or seven-figure deals. They want their work to be celebrated.
If you set those high standards for yourself, you need to back it up with the required work and effort of honing your skills and doing whatever you can to become a better writer.
21. "I built my talents on the shoulders of someone else's talent."
Study the great movies, television shows, books, directors, authors, and screenwriters. Take what you love about what they create and find a way to weave that into your craft, your stories, and your career.
Learn from the greats and don't be afraid to steal from them.
22. "When I will lose the sense of motivation and the sense to prove something as a basketball player, it's time for me to move away from the game."
Listen to your instincts. If you don't love the work, and if you're not motivated to do what it takes to succeed, it may be time for you to move on. That's not to say that you're quitting your dream of working in film or television. It's just that maybe your path lies in another position. Maybe you should be directing, acting, producing, editing, or taking on the many other opportunities within the industry.
23. "I think the players win the championship, and the organization has something to do with it, don't get me wrong. But don't try to put the organization above the players."
Studios put forth the money. Directors run the ship of production. Editors piece the footage together. Actors own their characters. But none of this happens without a screenplay. And a screenplay doesn't exist without a screenwriter.
---
Ken Miyamoto has worked in the film industry for nearly two decades, most notably as a studio liaison for Sony Studios and then as a script reader and story analyst for Sony Pictures.
He has many studio meetings under his belt as a produced screenwriter, meeting with the likes of Sony, Dreamworks, Universal, Disney, Warner Brothers, as well as many production and management companies. He has had a previous development deal with Lionsgate, as well as multiple writing assignments, including the produced miniseries Blackout, starring Anne Heche, Sean Patrick Flanery, Billy Zane, James Brolin, Haylie Duff, Brian Bloom, Eric La Salle, and Bruce Boxleitner. Follow Ken on Twitter @KenMovies
---
For all the latest ScreenCraft news and updates, follow us on Twitter, Facebook, and Instagram.