Lancaster Skies is an ambitious World War II film shot with the shockingly low budget of £80,000 (about $100,000 in U.S. dollars). Sure, it took four years and all the sound had to be redone in the director's bedroom, but father and son team Andrew and Callum Burn, along with co-writer/cinematographer Sam Parsons made a striking war film that's now available on Amazon Prime UK and so can you!
In Lancaster Skies, Douglas Miller (Jeffrey Mundell), is a broken, spitfire pilot who must overcome his past to lead a Lancaster bomber crew in the pivotal aerial war over Berlin in 1944. With the crew against him, he must figure out how to gain their trust and become the leader they desperately need while defeating the Nazis.
Giles Alderson sits down with Andrew and Callum Burn, Sam Parsons and actor Kris Saddler to talk about making the film for The Filmmakers Podcast.
Listen to the full episode here:

Here are the 10 best takeaways about shooting on a low budget. 
1. Anything is possible with a little grit.
Cinematographer Sam Parsons said that the best thing producer Andrew Burn (director Callum's father) brought to the movie was, "An incapacity to understand that things can't be done." They needed to film scenes inside a tank so Andrew built one – problem solved. For shots where a tank drove across a field, they used a miniature toy tank. Andrew says, "It's just having an understanding of how things work, it never needed to be explained to me, I just understood it." 
2. Sometimes being older works in your favor.
Andrew Burn, in his late 40s, says people took him more seriously because he was older. When he asked local Builders Merchants for £4k of wood to make a Lancaster Bomber, they said no problem. "I think if Callum and Sam had the conversation, they probably would have said no… they looked about 12. You can't be afraid of anything and I think that comes with age."
3. Get used to asking for money.
Most of us feel uncomfortable asking for money, but it's a crucial part of filmmaking. Callum struggled cold-calling people to ask for funding in the beginning, but that's changed. "He's seen me do it enough times," says Andrew, "he's realized nothing actually happens. You don't die because you embarrass yourself on the phone. You just embarrass yourself on the phone and move on." It's one of the things they don't teach you in film school, so Callum and the other producers benefitted from Andrew's age and experience.
4. If you can make a short film, you can make a feature film.
Shorts are great and can benefit your reel and add to your filmmaking experience. Lancaster Skies was originally conceived as a short film, but having already made a number of shorts, the filmmakers decided to go big. After that, the filmmakers hoped to make the film on a budget of £500,000. But they weren't able to raise that much. They decided that to make a feature-length movie, the minimum budget would be £80,000. 
5. Simplify.
Making a period film with fighter planes and tanks is very challenging on a limited budget. "Every time we came to a problem," says Andrew, "we looked at the script and said, 'Okay, how do we do that?' The answer was always simplification. It was never making things more complicated. Because we could have said, 'We'll just CGI it and worry about it later on down the line.' But we didn't do that. We wanted to capture as much as we could on camera." 
6. Don't be precious about your movie title.
The original title wasn't Lancaster Skies, but Our Shining Sword. When it came time to sell the movie, the marketing people suggested changing the title. We think it was a good choice. "The lesson there," says Callum Burn, "is listen to what people say. Don't just shut the door… Sometimes other people are right." 
7. The film business is, well, a business

.
When writing a film, ask yourself questions like, "How can this film make money? Why would someone buy this?" It's fine to go make a film for fun, but if you want to have a career, take the business side seriously.  
Learn how to train yourself to be ready for screenwriting success with this free guide.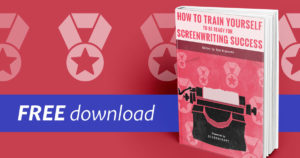 8. Social media is vital to the success of your film.
Lancaster Skies has its own Facebook page where people have followed the process of the film getting made and then released. "When people get invested in something like that," says Kris Saddler, "they want to see it at the end." They did a lot of advertising that the film was made in Lincolnshire and that excited local audiences. They also invited fans to come see the sets during shooting. "It brings people into your project. The more people you can get on board and rooting for you, the better your outcome will be," he says. 
9. Spend your budget where it's most needed.
The filmmakers said that because of budget restrictions, they only had seven lights – six after one broke. But it was important to them to have really sharp looking authentic military uniforms for the actors. "Getting a whole bunch of lights," says Parsons, "but having [the actors] in uniforms that didn't look good, would have been completely counter-productive." They also built windows with shutters into the sets to take advantage of daylight to light certain scenes. 
10. Be patient.
Callum Burn says he naively thought he'd be making big time commercials and films right out of film school. He admits he's had to really keep at it, working other jobs and being patient. "You just have to wait the longest because people will fall out of the race. Ultimately, if you're the guy at the end who says, 'I can do that,' you'll get the job, which is what's happening now." 
---
Shanee Edwards graduated from UCLA Film School with an MFA in Screenwriting and is currently the film critic for SheKnows.com. She recently won the Next MacGyver television writing competition to create a TV show about a female engineer. Her pilot, Ada and the Machine, is currently in development with America Ferrera's Take Fountain Productions. You can follow her on Twitter: @ShaneeEdwards
---
For all the latest ScreenCraft news and updates, follow us on Twitter, Facebook, and Instagram.